Hexagons
I saw a hexagon cushion pattern by Lori Holt after listening to one of Annie Smith's podcasts. The fabric choices are appealing – lots of dots – but I also like the red plaid (gingham?). I am not sure about pompoms, though.
I also saw a lot of great hexagon quilts and tile designs on Flickr. BariJ is making one from the Lecien group I am using for my hexagon.
Be*mused has a lovely hexagon with a striking black path between the Grandmother's Flower Garden arrangement of hexagons.
Making Blocks
There has been a lot of talk in my quilt circles recently about making blocks – challenge via BAMQG, Farmer's Wife Sampler, Lovey blocks, etc. Last month at BAMQG we talked about our obsessions and I mentioned that blocks are my obsession. Frankly, I couldn't think of what quilt obsession I had and that seemed to be a good one. That resulted in a number of people asking me about block dictionaries and other books about blocks. I am really surprised that more people don't know about books like Around the Block or have EQ software. I guess I shouldn't be, but Around the Block is my go to block book when I need to make some quilt blocks. It has a number of blocks and tells me, in clear instructions how to make each block in a number of different sizes. The publisher has compiled this book and its two sequels into one large book called 501 Rotary Cut Quilt Blocks. I would highly recommend this book (or the three that preceded it) for those of you who make blocks frequently.
Alternatively the Electric Quilt software is great. Yes, you will have to shell out some dollars, but the capabilities for this consumer software are great. You can take any of the included blocks, modify them and print out rotary or template directions. The capabilities are so vast. Plus, the technical support is really great. They are nice and friendly and will sometimes even draw blocks for you. 😉
I talked about the Farmer's Wife Sampler that some at the BAMQG are doing. Pam, from Hip to Be a Square podcast, turned me on to the Farmer's Wife Sampler Yahoogroup. I was giving her a bit of a hard time about paper piecing all those blocks and she said she couldn't do it without that group. I am not a member of that group, but perhaps it is a group that will help you with your questions about the Farmer's Wife Quilt-a-Long.
And just so you are reminded that I am obsessed with blocks and Camille Roskelly's life in my imagination, I have to say that I love LOVE love her color choices for the Farmer's Wife Quilt-a-long.
In addition to Jinny Beyer's new-ish book, The Quilter's Album of Patchwork Patterns, Piecemeal Quilts has a new post in their Skillbuilder series on block grids and drafting. they also include some info on copyright. I am suspicious of anyone posting copyright information who is not a lawyer, but I will reserve judgement as the explanation seems fairly basic and practical. Consult a lawyer (e.g. Lawyers for the Arts) if you get into trouble or have questions. Seriously. You can find the whole list of posts in the Skillbuilder Series on a separate tab. There are many ways to talk about learning quiltmaking and these women have a done a good job in explaining different skills.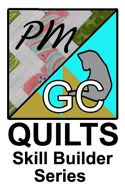 The Skillbuilder ladies also have a button you can put in your sidebar. I thought I would spice things up on this text heavy post for you!
More on Market
Apparently Riley Blake designers did a paper doll quilt that was available for people visiting Market to win. There is a blog with block patterns at All Dolled Up. I have always loved paper dolls. I had a friend in grammar school who drew manga-like dolls before manga was even a word, which we made into paper dolls. I love the designs these designers have provided, but it is probably too much applique for me.
Doing Good
I guess I don't get around the quilt world as much as I thought, because I didn't see anything about this project over at Moda, Just One Star. They have just posted some process photos about receiving quilt blocks, squaring them up and sending the blocks back out to be made into quilts. The project is related to Quilts of Valor. They made their goal of 100 quilts in 100 days.
Fabric and Supplies
I saw this 'color story' on a blog yesterday and thought I would share it. What do you think influences people's color choices?
I was looking for the Fons & Porter Quilt Shop in Winterset, Iowa and found this cool quilt shop graphic of quilt shops in Iowa.
Lecien has an update to its Flower Sugar group, which I saw on the Hawthorne Threads site. I am not as fond of the colors as I was of the first group. They got rid of the bright blue I really liked.
I am really disappointed in the hardware available to use in making bags. Hardware on bags available to purchase is much nicer. I am particularly enamored of the hardware Sherpani uses. It is gorgeous. I want to be able to buy lovely hardware for my bags. Do you have a source?
Business
I have made a half-hearted attempt to make some money off of quiltmaking without selling my quilts or quitting my day job. Part of that was linking Amazon books and such that I liked. As you may have noticed, I removed that widget, because Amazon has kicked all Californians out of their Amazon Associates program. It has to do with collecting sales tax and reporting it to the state. You can read about it in the LA Times. I just don't want to give them space on my blog, if they aren't going to pay me for referrals. I may make a list of books I really like, but you can also click on the Book Reviews tag in the idea cloud and read all about exactly what I think of books I read.
Nota bene: I know I added a lot of links. Hope you have time to take a look. JL